SWE-BWSI Build a CubeSat Challenge
Welcome!  Are you ready for a Challenge!
Now Accepting Applications!
The Society of Women Engineers and the MIT Beaver Works Summer Institute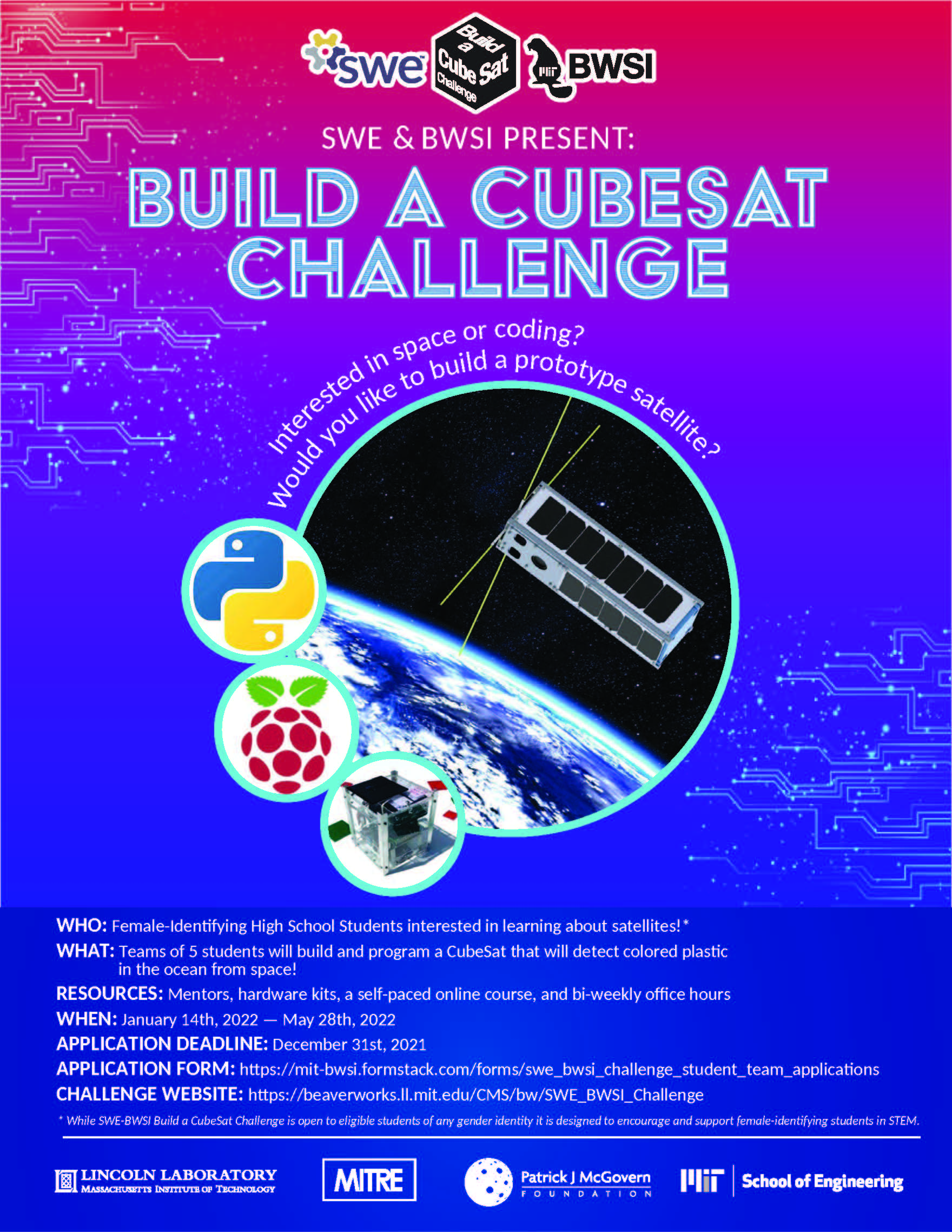 What: Female-Identifying High School Students interested in learning about satellites!*
Mission: Detect colored plastic in the ocean from space
Who: High school students in USA interested in learning about satellites!  Team of 5 students led by team coach (teachers, mentors)
When: January 17, 2022 to May 28, 2022
Resources: Hardware kit for each team, access to online course (self-paced), bi-weekly office hours
Final Event:  Saturday,  May 28, 2022, 10am to 4pm EDT (virtual)
Team Application Deadline: December 31, 2021
*While SWE-BWSI Build a CubeSat Challenge is open to eligible students of any gender identity it is designed to encourage and support female-identifying students in STEM.
---
Application Deadline is December 31
Teams will be notified on January 17, 2022
---
If you are interested in mentoring as part of this program, Apply here!
---
For more information see our FAQ
---
SWE-BWSI Build a CubeSat Challenge Overview: Build, Learn and Demonstrate 1U CubeSat with hardware provided
The initial SWE-BWSI Challenge will focus on the Build A CubeSat project in which teams compete to develop their own 1U CubeSat to complete an ocean science research mission. Teams of roughly five students work together to develop satellite subsystems that can power and support an optical payload while analyzing data and wireless transmitting the results to a ground station.
The final competitions will be a virtual conference using student video submissions and online conferencing tools for live presentations, Q&A and Awards.
Each team will be provided with:
Hardware kit (~$250, functioning 1U CubeSat components) 

Access to BWSI Build a CubeSat online course

Mentoring support (office hours, technical mentors)