AUV Power Subsystem 2014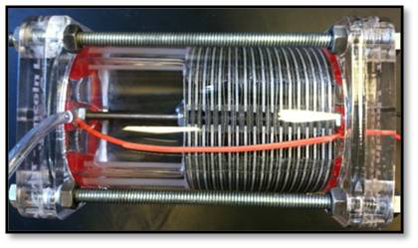 Course 2.013/2.014 - Professor Doug Hart
The design, fabrication, and testing of an aluminum-water fuel cell for autonomous undersea vehicles (AUV).  Design and develop a prototype air-independent energy source that increases the endurance of a mid-sized AUV from 3 days to 30 days.  Integrate the prototype into a mid-sized AUV for in-water testing.
During the Fall 2013 semester, undergraduate students and one graduate research assistant designed a fuel cell that directly generates electrical energy using the aluminum-water reaction. A full-scale prototype fuel cell will be built during the Spring 2014 semester, integrated into a mid-sized AUV and tested by faculty and staff members at the Woods Hole Oceanographic Institute in the Summer of 2014.
        
 

 
In December of 2013 students and faculty from MIT met with research staff from Lincoln Laboratory at the MIT Tow Tank facility in Building 48.  The internal combustion engine was sealed in a modular AUV section (the white cylinder on the left in the photo) and then submerged in the Tow Tank.  The system's ballast control and automated start-up and shut-down functions were exercised and met expectations.